Kevin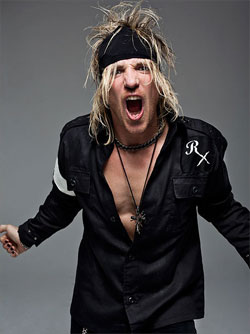 Kevin and owner of Rock My House Music Center is a professional drummer with over twenty years experience recording, playing and touring in bands. In the early nineties Kevin was nominated drummer of the year for the 1991 Ottawa Music Awards. By the mid nineties Kevin was in a band that hit the Billboard charts and were supported by videos aired on Musique Plus and Much Music. Kevin is a graduate from Recording Arts Canada where he received a diploma in Audio Engineering and Sound Recording.
Cory Coons
Hailing from just outside the small town of South Mountain, Ontario (Near Ottawa), Canada, Cory M. Coons has been writing, recording and performing music professionally for over 15 years. Formerly the frontman for the retro-rocking Tycoons, Cory now continues to perform as a Solo Recording Artist and Songwriter, and has just become a 2014 "Los Angeles Music Awards" recipient of the prestigious Producer's Choice for "Studio Album Of The Year" for his latest Independent Cd "Share A Little Time". His nominations in 2014 also include "Male Singer/Songwriter" and "Record Of The Year". Cory was one of six artists to showcase at the 2014 Los Angeles Music Awards Nomination Night and Voting Party at The Whisky A Go-Go this past Sept 25th, and received his award on Nov 12th at the Avalon Theater in Hollywood. With the release of the new E.p comes new songs produced by Multi-Gold & Platinum Veteran Music Producer Ron Nevison (Heart, Bad Company, Damn Yankees, Survivor, Styx, Night Ranger), with Grammy Award Winning Programmer/Arranger Jeff Bova and Tim Pierce (Top L.A. Session Guitarist). Cory's influences are a collection of various genres like Melodic Rock and Roots-Rock, occasionally blended with Crossover-Country. He is a respected Freelance Guitar Instructor in the local St. Lawrence Seaway Valley and at Rock My House Music Centre in Kemptville, ON. Cory has opened and performed alongside such treasured National Canadian Artists like April Wine, Kim Mitchell, Glass Tiger, David Wilcox & Prairie Oyster. With diverse commercial rock melodies, blended with a tasteful, rootsy style, the well rounded musicianship of Cory M. Coons makes him a uniquely talented Canadian Recording Artist!
Margaret Whisselle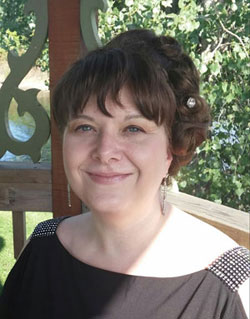 Margaret has called the Morrisburg, Ontario area home for most of her life. She began studying piano at age 7 and went on to receive her Bachelor of Music degree from Queen's University. She has been a private piano, vocal and theory instructor for over 25 years and a liturgical organist/pianist/choir director since age 11. While at Queen's she was a member of the a capella Chamber Singers group. After graduation, she began vocal lessons with Barbara Ross in Ottawa and has recently had opera coaching with Alex Fleuriau-Chateau. She has been Accompanist/Interim Director and Soloist for the Seaway Valley Singers, a 50-voice community choir, since 1992, and has been a member of the Renaissance Voices, a costumed, 12-voice a capella group(active from 1995-98). For the past 5 years, she has worked in the Music Theatre Performance Program at St. Lawrence College, in Brockville as an accompanist and vocal repertoire coach! She has performed at the Brockville Arts Centre as a soloist in many concerts...as orchestral pianist for shows, as accompanist to, and under the direction of Christopher Coyea, internationally-known operatic tenor. There have been several occasions when she sang in a quartet which included Christopher Coyea and Alex Fleuriau-Chateau, and accompanied them for concert presentations for the St.Lawrence Shakespeare Festival. Margaret's lessons focus on good technique, proper performance practice, including blocking and stage presence. Lessons are specifically designed for each individual student's needs, from 4 to 92!!
Carl James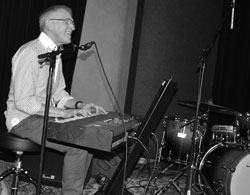 With more than 30 years of professional experience in music and teaching, singer, song writer, composer and producer Carl James Merenick provides award-winning instruction to Music students.

Carl James' international studio experience encompasses countries as far afield as South Africa and Poland, and a writer/composer resume showcasing broadcasting works for an impressive Who's Who list including Coca Cola and Bell, as well as CTV's Entertainment Tonight, Discovery Channel and The Sports Network among other productions.

The motivation is the love of music and a passion to transfer knowledge and skills to others so their creative 'voice' can be heard, and their own talent can be discovered and enjoyed. You can listen to some of Carl's music at: Sound Cloud